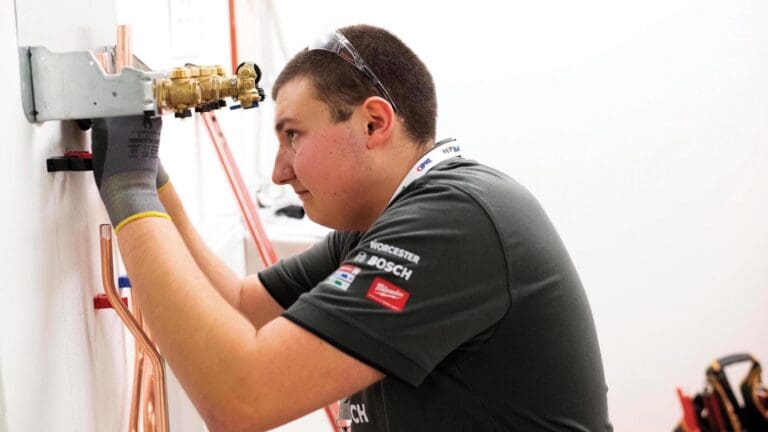 The commitment is a testament to Talon's dedication to bridging the growing skills gap in the plumbing and heating industry and encouraging more young individuals, regardless of gender, to pursue careers in the trade.
Recent figures from the Chartered Institute of Plumbing and Heating Engineering (CIPHE) reveal an 'alarming' skills gap engulfing the construction sector, with over 70,000 new plumber recruits needed by 2032.1
The HIP Student Plumbing Competition, now in its 15th year, has established itself as a platform for apprentice and student plumbers to showcase their skills, gain confidence, and receive recognition for their hard work.
Supporting the next generation of plumbing and heating engineers
Level 2 and 3 plumbing students from across England and Wales will compete in six regional heats throughout January and February 2024, demonstrating their expertise in various practical tasks. Jerry Whiteley, Technical Manager from the CIPHE, will serve as the competition's Head Judge, ensuring fair and expert evaluation.
Regional winners will advance to the Grand Final, where they will have the opportunity to secure a range of coveted prizes. Talon is contributing to these initiatives by donating thousands of its popular pipe clips and fittings for the entire competition, including the regional heats and finals.
In addition to the HIP Student Plumbing Competition, Talon is also proud to support the HIP Female Skills Competition, a competition dedicated to recognising and celebrating the skills of female plumbing and heating learners.
"We are proud to support the HIP Student Plumbing Competition once again in 2024. We believe in nurturing young talent and providing them with the tools they need to succeed in the plumbing and heating industry. This competition not only recognizes their skills but also helps them kickstart their careers," says Mike Morris, Marketing Manager for Talon.