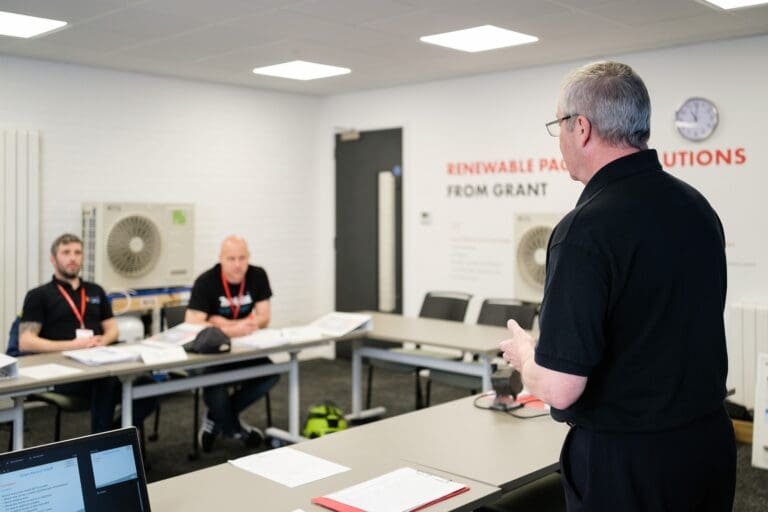 Grant heat pump models have been installed at the training and assessment centre for domestic and commercial heating engineers to make product training more accessible for heating engineers based in the East of England.
Combined Heating Services Ltd delivers a selection of industry qualification courses for gas, LPG, oil and unvented hot water systems and is an approved centre for OFTEC, LCL Awards and GasSafe. Earlier this year, the opportunity arose for renewable products, including air source heat pumps, to be added to its purpose-built facilities.
Hands-on opportunity
As a result, Grant Aerona³ units have been installed giving engineers and installers who attend the LCL Awards low temperature heating system course the opportunity to complete the hands-on course elements using these heat pumps.
In addition, Grant UK's own trainers will be delivering their two-day Aerona³ air source heat pump product training course at the centre as well, making this course more accessible to installers and heating engineers based in the East and South East of England.
The Grant Aerona³ Air Source Heat Pump course is intended for heating engineers wishing to develop their knowledge and understanding of air source heat pumps and the Aerona³ range. The course combines theory and practical training which covers an in-depth look at the Aerona³ construction and principles of operation as well as the electrical wiring and controller settings. The course also includes heat pump sizing and the key considerations affecting installation, set-up and commissioning. The VortexAir Hybrid technology is also covered during the two-day course.
Installers and engineers who successfully complete this course can then apply to become G1 accredited for Grant heat pumps.
Growing demand
"We are very pleased to be able to deliver our heat pump product training course at the facilities of Combined Heating Services Ltd," comments Phil Stanley, training manager at Grant UK.
"Demand for renewable training, and particularly for air source heat pump training, is growing month on month, so the use of Combined Heating Services Ltd as a venue for the delivery of Grant product training is a welcome addition to our offering as a Training Academy.
"We hope the addition of Combined Heating Services Ltd to our network of Training Providers will be hugely beneficial to installers throughout the East of England with the Grant products installed at their centre helping many heating engineers build their knowledge about this low carbon technology."